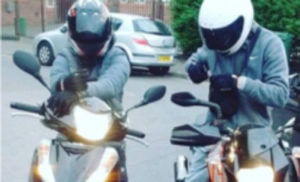 This Association has received a number of emails from residents concerned with the recent upsurge in disorderly behaviour and criminal damage by youths on scooters and mopeds congregating in car parks and other public spaces within Lower Sunbury. Indeed, this phenomenon has also been reported in the most recent issue of Sunbury Matters: click to see.
Our local police who have been made aware of this problem and also the spike in residential burglaries are doing their best within their very limited resources. Indeed, The Police and Crime Commissioner, David Munro, has written to all MPs and Council Leaders in Surrey to seek their support in abolishing the current cap on the policing element of the council tax. In his letter, Mr Munro says "Like many forces up and down the country, Surrey Police are currently running at the limit of their capabilities at a time when demand on the service continues to grow."
If you have concerns about your neighbourhood and would like to have your say, why not come to the Spelthorne Police and Partnership Meeting on 29th November at the Staines Community Centre.